Hello Everyone!
How time flies! We cannot believe that our last post dates back to the middle of June. The summer has come and gone in a flash! And what a summer it has been! A mixed bag of emotions really, as you can expect when you throw everything you've got at a derelict building to pursue a dream!
But first things first: our son Maxwell was born on the 4th of September! He is doing very well and we are absolutely ecstatic (though completely sleep deprived…)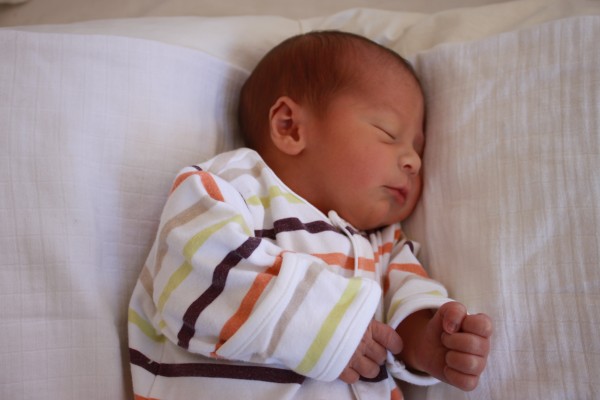 Overall it has been really exciting and satisfying to see our building rise up from the rubble and start taking shape after a rather worrying period which saw our property reduced right down to 4 external walls (no ground floor, partition walls or roof!). Olivier has just started painting the base coat on walls and ceilings last week (woohoo!!)… His arms are killing him right now and he's only done the living room and kitchen… He needs to build some stamina if he's to paint the 6 bedrooms, 6 bathrooms and all the common parts with 4 coats of paint!!!!  Aaahhrrg! The spaces are now transforming into a blank canvas and the exciting part of the project is taking shape as we start to envisage the interior finished look, spaces, colours, furniture etc…
So all is progressing well on the main building which has 5 bedrooms but works have yet to commence on our 6th room (currently the annex building – last picture below) which needs to be extended and completely refurbished. And yes, we still hope to finish works for end of October…mmm that sounds like a challenge. We have discovered the true power of PMA (Positive Mental Attitude) in the face of all adversity and are using it as a mantra to keep going.
The photos below give you an idea of the progress we have made in the last 3 months (more pics on facebook):
Our illustrator Alice has drawn a lovely map of St Ives showing Trevose Harbour Houses' location within the town…and we think it looks great!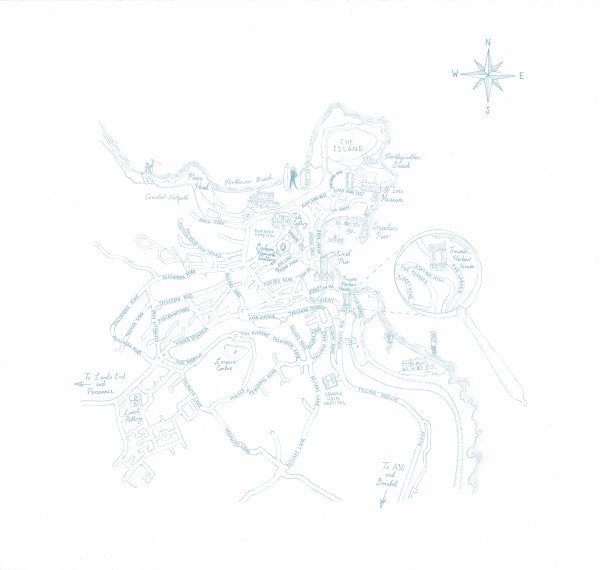 We have however managed to do something other than follow building works and so after ten months of living down here, we finally thought it was time to explore the area and see some of Cornwall's finest events/attractions. Thanks to a beautiful and mild month of September this had made it all the more enjoyable.
The St Ives festival for Music and the Arts which takes place every September was a lovely time to wonder the streets, visiting art galleries and attending literary talks. We finally managed to visit the Alex Katz exhibition on its last day showing at the Tate www.tate.org.uk/visit/tate-st-ives… we thoroughly enjoyed it and were slightly ashamed not to have paid a visit to the gallery sooner.
We also visited the Helford area with it beautiful estuary and Trebah Gardens www.trebahgarden.co.uk which gives one a sense of being immersed in an ancient, almost  forgotten tropical setting. Our walk was rewarded with a great seafood pub lunch at the Ferry Boat Inn from the Wright Brothers. There is loads more to do and see in Cornwall and we hope to add a few more visits to the calendar in the next coming months.
Here's wishing everyone a great start to the Autumn. We hope to have our next blog up soon and that it will entice you to visit us next year.
Angela & Olivier x