Olivier's Granola Recipe
17 - 05 - 2020
What's your go to breakfast?
Breakfast is renowned for being the most important meal of the day, so we think it imperative at Trevose Harbour House, to start you off with a scrumptious and fulfilling meal, preparing you for your day ahead in St Ives. 
We're extremely lucky at Trevose Harbour House to benefit from the culinary skills of one of the owners of the hotel, Olivier. Having attended the renowned Hotel School of Lausanne in Switzerland, Olivier very humbly ascribes learning the majority of his skills cooking regularly for his family and friends.
"My culinary skills, really stem from a love for food and a passionate desire to please my guests and friends alike".
When Trevose Harbour House first opened eight years ago, Olivier stepped up to a new challenge and this is where he really started to create more sophisticated recipes. Catering for the hotel's guests, Olivier developed a real talent for innovation with his cooking, creating award winning breakfasts, while remaining conscious of cooking sustainably.
Food sustainability is a key part to our efforts in helping to care for and protect our environment and to give back to the communities we are a part of. Our initiative works towards a better environmental, social and economic community for all. So whether it's cooking green, or reducing our food waste, we're doing what we can to promote a sustainable kitchen and a healthy planet.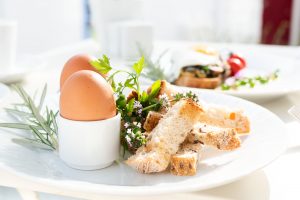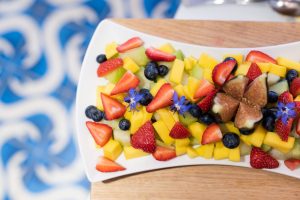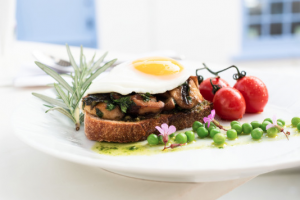 OLIVIER'S GRANOLA RECIPE
One of Olivier's signature treats that many of our guests rave about, is his home made granola. A few of our lovely repeat guests, have enjoyed creating Olivier's granola at home, kindly sharing with us how it brings back so many happy memories of their stay at Trevose Harbour House. 
If you haven't tried Olivier's Granola Recipe yet, then you're in for a treat!
Having only shared his secrets with a small few, Olivier decided it would only be fair to share this recipe with everyone, as it's super easy to make and most of these feel good ingredients, you'll probably find hanging around in your larder.
This perfectly crunchy and scrumptious granola, is naturally sweetened…with just a little added maple syrup and honey. It's also a great recipe for customising with your favourite ingredients too!
So here's what you're all waiting for…
INGREDIENTS
300g rolled oats
50g pumpkin seeds
50g sunflower seeds
100g Whole Almonds
100g Whole Cashews
3 tbsp Sunflower oil
5 tbs Maple syrup
4 tbsp Honey
1 pinch Salt
200g Dried chopped fruits (equal mix of prunes, figs, apricots)
METHOD
Heat oven to 140C. Mix the oil, maple syrup, honey and the salt in a large bowl. Add in all the remaining ingredients, except the dried fruit and mix well.
Put the granola mix onto a backing tray covered with a sheet of baking paper and spread evenly, about 1.5cm thick. Bake for 40 minutes; this can vary depending on the oven you use, so practice makes perfect!
Remove from the oven and leave to cool for at least 45 minutes. When cool, break up into small chunks. Only mix in the amount of dried fruit you will be serving on the day, as storing the granola together with the moist fruits will make it go soft overnight. Serve with cold milk or yogurt. This granola can be stored in an airtight container for up to 2 weeks.
Share your granola with us!
We'd love to hear how you get on with this recipe, so tag us @trevoseharbourhouse with you own creations of Olivier's Granola.
We're all experiencing a little nostalgia at the moment, but we love hearing your memories and it really means a lot to us when our guests share their happy times of Trevose Harbour House with us.
We look forward to seeing you soon.
TREVOSE