Sustainability
03 - 06 - 2020
Sustainability
Sustainability is at the heart of how we do things at Trevose Harbour House. Looking after our planet and the people on it, is something we feel extremely passionate about. We work hard to implement as many sustainable choices into our everyday lives as possible, so as you read on, we will share with you some of our sustainable practices that we currently implement at Trevose Harbour House.
Today, the consequences of human action can be seen everywhere, through environmental, economic and social impacts. The purpose of sustainability is to maintain an ecological balance, helping to ensure our ecosystems can continue to support life, provide resources and to meet the needs for future generations. The impact on our environment, has subsequently led to the depletion of our natural resources, which is why environmental sustainability is so important to us all.
"The greatest threat to our planet, is the belief that someone else will save it" – Robert Swan
Hospitality and Environmental Sustainability
The hospitality industry is one of the largest industries in the world, which relies heavily on our natural environment and resources. The extent to which the industry is exposed to such changes in our environment today, puts the industry in a position where a shift towards more sustainable practices, becomes an ecological, economic and ethical necessity. As our earths ecosystems are only able to renew themselves at low levels of consumption, it is therefore extremely important for us to work together and to support everyday, sustainability practices.
Our Environmental Sustainability Values
Sustainability is an integral part of how we operate at Trevose Harbour House. We hope to demonstrate that you can succeed as a business in a natural and environmentally friendly way, by integrating natural elements from the moment you step through our doors. We are always looking for innovative ways to progressively integrate small sustainable choices into our daily routines and through good practice, we hope to encourage our guests to adopt some of our ideas.
Passion for Produce
We are dedicated to the respectful use of food and only the freshest and finest ingredients, will make it to our guests tables for breakfast. We try to avoid any unnecessary wastage and where possible, we endeavour to reduce our food miles by sourcing our produce locally. We are passionate about directly supporting sustainable farming, working alongside small, local, organic farms for our British seasonal and organic, ingredients. So we hope that by being considerate of our earths produce, we will in turn have a positive and measurable impact on the wider food system.
Passion for People
At Trevose Harbour House we strive to be open, fair and ethical in everything we do. Where possible we source organic, local and fair-trade products and we firmly believe in supporting our local economy, from the people we employ, to the charities we work alongside.
Our Local Community
We support our local community through many charity events and organisations, such as the RNLI box for change collection and Tassy Swallow Surf Ratz. We also help to raise funds for the community Skatepark project of St Ives and in 2018, we joined in participation with the #noplasticsstives by joining with local businesses to implement green practices throughout the town. The aim of a plastic free community, is to reduce our towns contribution to the global plastic crisis, by reducing St Ives' footprint of single use plastic.
Surfers Against Sewage
We are proud to annually support the Surfers Against Sewage (SAS) conservation. SAS started as a grassroots movement and are now one of the UK's most active and successful environmental charities. We love working alongside our local community in preserving, protecting, cleaning and safeguarding our oceans, beaches and wildlife.
Sustainable transport
We are committed to our green ethos at Trevose Harbour House and we want to help and encourage sustainable practices where possible.
Did you know?
The train journey down to St Ives sweeps along the coastal path and has got to be one of the most scenic in Britain. We have recently implemented a new incentive for those who travel to us by train. We will gift each guest a ticket to the Tate Museum to enjoy during your stay in St Ives (we would just kindly ask to see proof of train ticket on arrival).
Energy conservation
We hope that improved efficiencies, as well as new technologies will help us to accelerate our efforts in conserving our energy.
100% of our energy is sourced by 'green energy' and we strive to conserve this energy by using energy efficient LED lighting, which hosts 90% of the lighting throughout Trevose Harbour House.
To help reduce our gas consumption, we implemented underfloor heating throughout the house.  Each of our bedrooms host their own mains switch and all our bathrooms have low flush offset toilets, to help reduce energy consumptions. It is important to encourage our guests to help us to reduce wastage; we recommend guests re-use their towels and linen more than once during their stay.
Minimising waste
There are various issues associated with the management of waste, including in its processing, collection, transport, disposal and recycling. We therefore strive to do what we can to consider and minimise these processes.
We feel passionately about a circular economy, re-cycling and reusing where possible and throughout Trevose Harbour House, you will find many characterful, up-cycled pieces. We feel this brings something unique to each room of the house and we enjoy sharing our treasures with our guests.
With a love for our planet and in particular our oceans, we are extremely passionate about reducing plastic pollution. Plastic is one of the biggest offenders to the environment, with single use plastics having a lifespan that far outreaches its intended purpose.
All of our cleaning products are eco-friendly and we provide all of our bedrooms with refillable glass bottles for drinking and multi-use bottles for our bathroom products.
Would you like to get your hands on a free coffee?
We advocate the use of reusable food and drink containers where possible. So if you purchase one of our reusable 'Keepcup' coffee cups, we'll make you a coffee to go!
We work hard to reduce our food wastage, by limiting the amount prepared to the actual need. All glass, paper, cans and plastic products are recycled where possible and we compost all green kitchen waste and coffee grounds. We are mindful of our use of paper and ink too, using environmentally friendly printing ink, on recycled paper and only when needed..we all try to think before we print!
Our staff are actively encouraged to reduce their own wastage, not only at work but at home too and we also encourage our guests to act responsibly during their stay.
Green and getting greener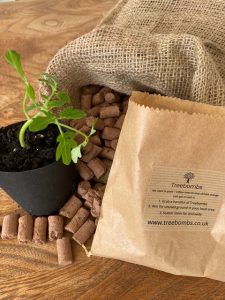 Sustainability will always be an integral part to our development at Trevose Harbour House and we hope that by implementing small everyday actions, we will encourage a positive future for our environment.
We have recently invested in 'Treebombs' which we intend to provide soon, as a little farewell to our guests on departure. Treebombs encourage large scale planting, although they actually don't need physically planting! Each Treebomb contains native UK Alder Tree seeds, which create biodiverse habitat and grow quickly into strong carbon capturing trees.
We're also looking into owning our own 'Flow Hive' bee hive, to help introduce more bees to the environment and if we're lucky, we may even pot a little honey too!
We are always looking for ways in which we can care for and protect our environment, while giving back to the communities that we are a part of. It is important to continually reappraise what we do and we hope that our commitment to sustainability will stand us in good stead for the future.
We'll see you soon!
As we continue to navigate our way through these uncharted waters, it is extremely important for us to continue to meet our commitment to sustainability and to show our guests that we are working hard to ensure your safety and wellbeing.
Please keep an eye out for our next newsletter, which will provide you with our new guidelines for how we plan to operate once we are able to re-open our doors to you. If you're not signed up to receive our newsletters, let us know via email – hi@trevosehouse.co.uk
Don't forget to keep informed with our activities @trevoseharbourhouse and @stivesstudios.
TREVOSE
Photo credits: Trevose Harbour House