Food Glorious Food
13 - 05 - 2019
FOOD
One of the most reoccurring questions we like to ask our guests upon arrival, is what they have planned for their visit to St Ives. Usually, besides the art, the common interest that always seems to leave people's lips, is food; 'good food, good drink, good atmosphere'.
We are so fortunate here in St Ives to be spoilt for choice with such a fruitful and buzzing restaurant scene. With stiff competition, restaurants offer high-quality foods, enjoyable experiences and beautiful settings. Some are long-standing, others seem to pop up just for a season, yet all seem to leave an everlasting memory!
Porthmeor Café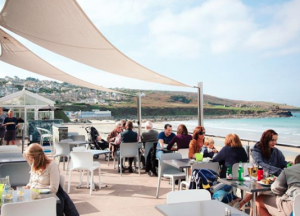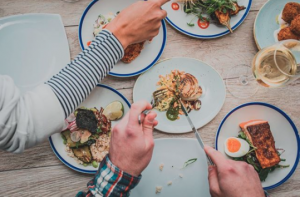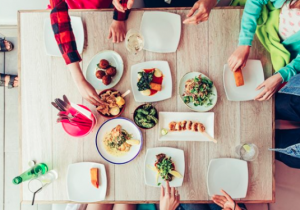 One leading restaurant that continually offers delicious food and an attentive service is Porthmeor Beach Café. Situated right on the beach, with uninterrupted views of the sea, it is no surprise this restaurant is so popular amongst both locals and tourists.
But it's not easy. With the population of the town trebling in the summer weeks, we got the low down for owner Jenna Woolcock of what 3 key things she believes makes her business run so smoothly and successfully; 'Values, culture and team-work' she explained. They go hand in hand, by misplacing one can see detrimental effects on the other. Everything needs to work together, as one, to make it run so fluently!
The Old Custom House
This summer, we have been lucky enough to see two new additions to the town. 'Talay Kitchen' opened last month; an authentic Thai restaurant that focuses on delivering an experience through the sharing of tapas style street food. And just the past week, The Old Custom House, a quaint yet sophisticated restaurant with Mediterranean quirks, opened its doors with welcoming arms. We took the opportunity to have a chat with the owners Hayley and Steve, a talented and experienced duo with years of hospitality under their belt, to find out a bit more about their exciting new venture.
Hayleys personable and warming welcome made us feel at home within seconds of entering the beautifully designed space. Arranged with elegantly appointed mid-century furniture and fittings, she told me of the generosity of friends in the industry kindly donating pieces, family members assisting with upholstering furniture and Steves hidden artistic flare meant even the artwork hanging from the walls had been individually designed and created in-house. Every thought and detail to the interiors and space made it even more personable, unique and relatable.
The purpose of the restaurant, Hayley explained, is to offer a space where people can sit back and enjoy the beautiful view whilst accompanied with delicious food, great wine and in a relaxing atmosphere. With an antipasto Mediterranean cuisine in mind, people can choose from a numerous choice of delicious small dishes to share from, including both charcuterie and cheese…
We wish them every luck for the future, and have no doubt they will be of great asset to the town!
Breakfast at Trevose
The sub-tropical weather we have been experiencing the past few months has really enabled us here at Trevose Harbour House to experiment with our breakfast dishes…
We endure to make the most of local produce that is in season at that time, whilst also exploringwith bold differing components that may sound slightly unusual at first but in fact, work wonders on the taste buds.
Mouth-watering fresh summer fruits, local micro herbs and homegrown edible flowers, are just a few of the delicious organic ingredients that we have been incorporating within our plates to serve our guests a spectrum of colours.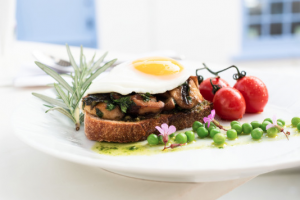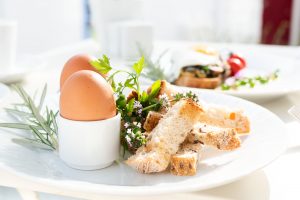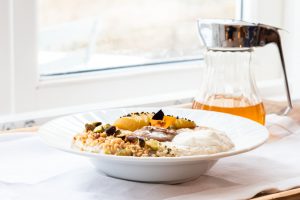 New on our menu this week is our star anise and cardamon French toast, with a blueberry and blackberry compote, fresh basil, caramelised bananas, vanilla bean yoghurt and maple syrup.
I'll let your imagination do the talking…
And on that note, it's a CIAO, for now, from us.
Trevose

Photo credits: Adam Sargent- Porthmeor Beach Café, Jayce Robinson- The Old Custom House, Trevose Harbour House